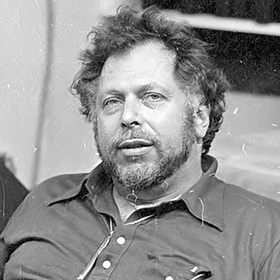 Unlike his well-known peers of the time (Hefner and Guccione), Alvin "Al" Goldstein pushed the envelope with his dirty magazine Screw by showing sex in all of it gritty reality, without the slightest hint of class or subtlety. In truth, the sex that was depicted in his magazine could never be described as romantic or pretty, but Mr. Goldstein did effectively push hardcore pornography into the mainstream culture.
Born in Brooklyn, New York in January 10 of 1936, Goldstein struggled to find his purpose and worked a lot of jobs including photojournalism, insurance salesman, and cab driver among others, until he and his partner Jim Buckley founded Screw in November of 1968. The smutty magazine's motto read as follows: "We promise never to ink out a pubic hair or chalk out an organ... We will apologize for nothing. We will uncover the entire world of sex. We will be the Consumer Reports of sex.", so it's no wonder that it ruffled a few feathers here and there, though that just happens to be what Goldstein was all about.
He lived to shock and offend people, often flipping the bird to anyone who crossed him (in fact, he erected an 11-foot tall statue in his backyard of an extended middle finger) and bashing them on both his publication and his nude TV show Midnight Blues. He has been called a crass, sex-obsessed, angry fat man with zero impulse control, among many other unfavorable things. On the flip side, he was said to be loyal, at times very generous, that he abhorred hypocrisy and was a firm supporter of freedom of speech.
It seems that this man's objective in life was to rub people the wrong way as much as possible, and he certainly achieved that if you take a look at the 19 arrests he got for obscenity charges and the millions of dollars spent on First Amendment lawsuits.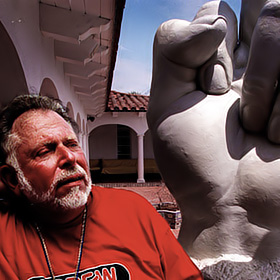 His magazine was mainly comprised of reviews of porn movies, peep shows, erotic massage parlors, escorts and every other thing you can think of that was offered in the adult entertainment industry. They ran scathing articles about known politicians, photos and drawings of celebrities in the nude. At the same time, they ran a weekly column called "The Homosexual Citizen" that had constant support for and from the gay community; Goldstein was very open about his own sexuality and desires, shamelessly discussing his occasional forays into homosexual sex.
Over the years, Al made millions and also lost them. He lived life in extremes and went from enjoying a lavish lifestyle in the peak of his career to basically losing everything and ended up homeless in New York in his later years.
With the coming of new technologies, less advertisers and overwhelming competition, in 2003 Goldstein declared bankruptcy and sold his mansion to cover his debts. He lived briefly in a homeless shelter in Manhattan and struggled to keep minimum-wage jobs until a friend offered financial support, paying for an apartment in Queens and later on for his stay at a nursing home in Brooklyn where he died of renal failure on December 19 of 2013 at age 77.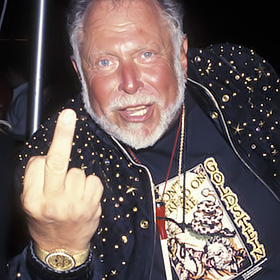 Despite his abrasiveness and unpopularity, this loud-mouthed and overweight man definitely had a hand in shaping today's pornographic industry. He was the first publisher to sell raw sex and was absolutely proud of that fact, stating that at Screw "We lead the league in tastelessness. Our photographs are filthier and our stories are more disgusting. We make no effort to be artistic. … Our stock in trade is raw, flailing sex." He added: "I may be making a lot of money, but I really believe I'm doing some good by demythologizing a lot about sexuality."
Call Al Goldstein whatever you want, whether you believe he is one of the pioneers of today's porn or a disgusting pig that tainted the community's views on sex, the fact is that his influence in the adult industry is undeniable.
Sources:
- time.com "Al Goldstein: Sleazy Pornographer — and Proud of It"
- tablemag.com "Al Goldstein's Brash, Brazen Legacy"
- boingboing.net "Dirty! Dirty! Dirty!: Of Playboys, Pigs, and Penthouse Paupers: exclusive excerpt"
- Wikipedia.org "Al Goldstein"
- Theatlantic.com "My Mentor, the Pornographer"
- Nytimes.com "Al Goldstein, a Publisher Who Took the Romance Out of Sex, Dies at 77"