We've all seen it: Star Wars merchandise has been everywhere lately, even in the grocery store with the characters we all know and love stamped on our grapes and apples. There's something to be said about George Lucas' creation when it invokes such an appetite of consumption within its fans that they're willing to buy anything bearing the brand of their beloved films; really, the sky's the limit when talking about Star Wars related products.
One such product that Mr. Lucas is famously none too happy about, is the vast array of XXX movie parodies that have popped up over the years ever since the release of "Episode IV: A New Hope". And really, it's no wonder that Princess Leia wreaked havoc in the sexual fantasies of pubescent sci-fi geeks all over the world with the famous scene of her scantily clad body while she was Jabba's prisoner. Looking back, it's crystal clear that these adult movies were an unavoidable result of the absolute love fans had (and still have) for Star Wars since, let's face it, humans have an uncanny ability to take anything they can get their hands on and succsessfully put a sexual spin on it.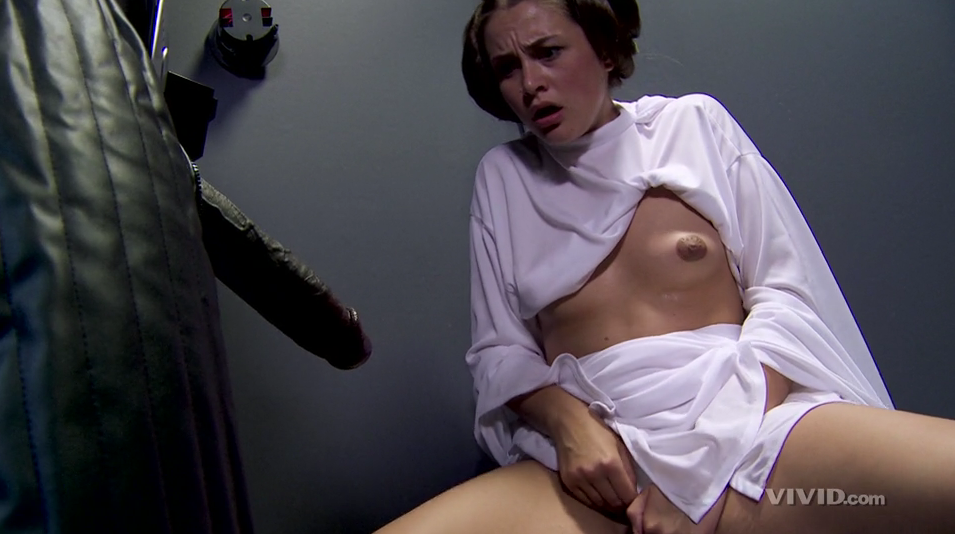 With the premiere of "Episode VII: The Force Awakens" looming in the horizon, Star War fans started ravenously consumming merchandise left and right, including of course those notorious porn parodies of the films mentioned above, which have seen a whopping 500% increase in sales over the last few weeks.
The first Star Wars inspired porn parody that came into being seems to be a classic gem called "Star Babe" from 1977, directed by Jack Genero. Though this spoof clearly takes place in the same universe as Star Wars (given the appearance of Darth Vader and a Stormtrooper), it centers around three Space Angels that are sent to the planet Phallus to prevent a takeover of Earth, according to IMBD.
In 1985 came "Sex Wars"; directed by Bob Vosse, this parody actually took elements from both Star Wars and Star Trek and meshed them together for a sex-filled ride in space alongside Princess Layme, Brinker Duo and Mark Starkiller in their quest to rescue Layme's sister, Princess Orgasma from the planet Tryos.
Then came Private's "Porn Wars: Episode 1"(2006) with a clear Star Wars-y influence given that the Jodi are at war with the Seth and thus copious amounts of fornication ensues. One clear difference though, the Jodi are hot warrior women who utilize the Force in a very sexual way against the baddies, the Seth, which of course are horny men not afraid to put their "swords" to good use.
Last, but never least, we have Vivid's 2012 "Star Wars: An XXX Parody", (based on "A New Hope") by far the most popular one of the bunch and, in my opinion, the one that sticked to the original film's storyline the most. This raunchy movie goes as far as keeping the original character's names as well as including some very incestous action between Luke and Leia (heads up, the film also boasts a -kinda disturbing- Vader-Leia encounter). The Stormtroopers in this spoof are the hottest you'll ever see and even Chewie gets a piece of the action. "The Empire Strikes Back XXX" is said to be in the works and according to IMBD was supposed to be released on September of 2015, but the date has been pushed back to 2016.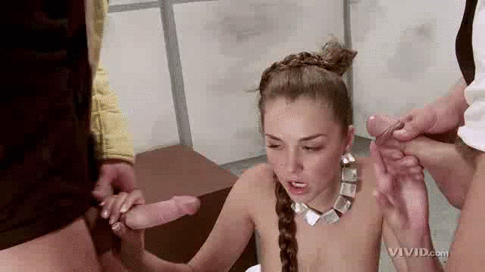 So there you have it, some of the most notorious Star Wars porn parodies that have been made so far and news of more to come. Most of these are worth a once-over, if not for the smutty content, at the very least they deserve a looksie for comedic value alone. Hardcore Star War fans are recommended to stay away from these spoofs, mainly because you won't be able to unsee some of the stuff in these films. However, if you do decide to check these parodies out, remember to keep an open mind, in the end it's all about having some fun. May the Force be with you!