Do you remember the 'Ice Bucket Challenge' on the summer of 2014? This viral campaign had everyone on the Internet throwing ice cold water all over themselves in order to raise awarness and give money for ALS research and was, objectively speaking, a raging success. There was a time where no matter what social media platform you were on, you were bound to come across an Ice Bucket video or two.
For 2015 however, there's a new challenge making its rounds around the web to take the place of the 'Ice Bucket' sensation, and it is called 'Hold a Coke With Your Boobs'. This brand-spanking new trend has the hopes of becoming the new 'Ice bucket Challenge' and seems to be related to spreading awareness of breast cancer.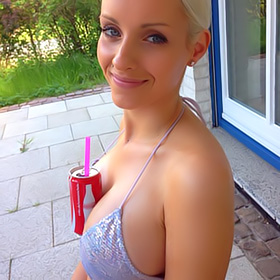 This new challenge first picked up steam in Europe, where rules began to form. Like it's predecessor, users must porvide video footage of the deed (or at least photographic evidence) before nominating someone else to do the same. As you may have already surmised, the challenge consist of a person holding a small bottle or a can of coke between his/her breasts, without using their hands. If you think that these conditions are keeping men from participating, think again, there are plenty of videos out there with blokes holding some sort of soft drink with their moobs.
The new viral trend was started by porn recruiter Danny Frost, who works for Elite Talent Referral. This is an adult entertainment talent scouting agency which first released a video of a busty woman holding a coke with her cleavage on May 25, and the craze has been snowballing from there.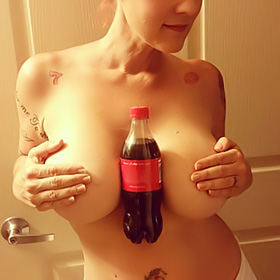 If the fact that ETR is behind this new trend makes you doubtful of their intentions, you're not the only one, although there are quite a few links to the Breast Cancer Research Foundation in between videos on the campaign's official Facebook page. Still, charity alone is not a sufficient reason to disguise the company's brand strategy motivation, since every single clip of a bottle held between two breasts will have the company's name attached to it.
You have to hand it to Elite Talent Referral and give credit when it's due though, this is quite an ingenious strategy with all the exposure it has gotten in such a short time. In my opinion however, as successful a concept as the 'Hold a Coke With Your Boobs' challenge is, it will almost certainly not reach the millions of reproductions that the 'ALS Ice Bucket Challenge' obtained, simply because not every woman out there is prone to revealing her breasts on camera and it's unlikely you're going to see many celebrities doing this challenge.
(Coca-Cola Logo and designs are trademarks or registered trademarks of The Coca-Cola Company. All other registered trademarks or trademarks are property of their respective owners.)
Sources:
-//www.esquire.com/lifestyle/sex/news/a35274/coke-topless-women-for-breast-cancer-awareness/
-//www.pyx106.com/articles/pyx-106-trending-now-492743/hold-a-coke-with-your-boobs-13629996/
-//perezhilton.com/2015-05-28-hold-a-coke-with-your-boobs-challenge-breast-cancer-awareness#.VWtTSs9Viko