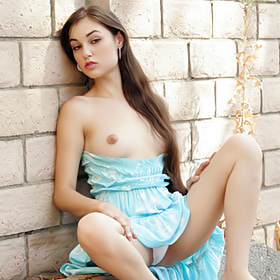 You've probably heard the name before, and if you haven't, where in the hell have you been? Back in 2006, Sasha Grey made a splashing entrée into the porn industry right into the deep end of the pool, with her first ever scene being an orgy with "Italian Stallion" Rocco Siffredi; where she famously asked him to punch her in the stomach. Lately, it's being rumored that she may be looking to get back in the porn scene. This downright intriguing brunette quickly rose through the ranks of the business thanks to her "down for everything" attitude and "balls to the wall" brazenness. She may have been really young when she started (barely 18), but she certainly made up for her lack of experience with a hearty enthusiasm for all things kinky and sexual.
Having seen a lot, and I do mean a lot, of porn stars in action, I think it's safe to say that Sasha Grey is unlike any other performer out there. This former porn star is not only confident and aggressive in her sexual desires; she's also extremely intelligent and fiercely committed to her goals.
This slender brunette babe was born in Sacramento, California on March 14, 1988 and moved to LA when she was 18 to pursue a career in porn. She stated that she got interested in the adult business after one semester balancing college and work, at a time when she really just wanted to explore her own sexuality and push her boundaries. She researched online before moving to Los Angeles in 2006, getting an agent and performing in her first porn scene less than a month after moving.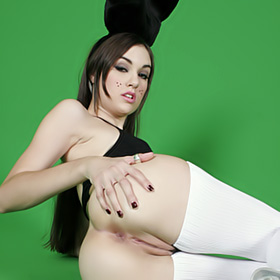 As I stated before, her very first scene definitely put her on the map, and she continued doing extreme films during the five years she was in the business. This lithe, raven-haired babe did everything you can think of on camera; she was known her excellent deep-throating skills, dishing out shit-talk during scenes, and for loving it rough.
During her career in porn, she was also one of the most exposed stars on mainstream media; modeling, making appearances on talk shows and getting feature articles in plenty of magazines, such as a profile on the Rolling Stone "Hot Issue" for December of 2008. A. O. Scott of The New York Times described her pornographic career as "distinguished both by the extremity of what she is willing to do and an unusual degree of intellectual seriousness about doing it."
Grey also made the jump from porn star to mainstream actress like few have done before. One example of this is her casting as the lead role of "Chelsea", an escort who's paid to act as her client's girlfriend in the film The Girlfriend Experience directed by Steven Soderbergh. She also made appearances in several music videos and was cast on the seventh season of HBO's Entourage, where she played a version of herself as a love interest for the main character, Vincent Chase.
Sasha has also had her hand in the music industry, with American industrial band aTelecine which began in 2008 in collaboration with Pablo St. Francis, then added members Anthony D'Juan and Ian Cinnamon. The last of whom is actually Grey's ex-boyfriend. A not-so-fun fact about Cinnamon that came to light in 2014, is that Sasha got a restraining order to keep him away from her, claiming that he was abusive, violent, and lured her into doing porn. I don't know about you, but that last bit really irks me, since Sasha Grey spent her whole career in porn saying that she was doing it because she wanted to, and that she was doing it in a way that will change people's perspective on the women who go into the industry. I personally believe that this is basically a publicity stunt on Ms. Grey's behalf, in order to try and shed her porn star past; I just find the fact that she was "lured" into doing porn by an abusive ex to be pretty unconvincing; especially once you've watched her in multiple interviews and hardcore scenes. There's just no way she was able to fake the enthusiasm of having sex on camera for so long, in my opinion.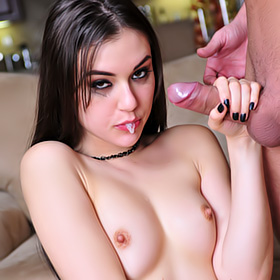 After announcing her retirement from porn on April 8, 2011 on her official Facebook page, Grey kept up with her artistic endeavors and even went after some new ones. She published a photo book called Neü Sex which was released on March 29, 2011; and later on wrote an erotic novel, The Juliette Society, about a college film student that is pulled into a secret sex society, released on May 9, 2013. More recently, Sasha has been trying her hand at DJ-ing, putting out EDM mixes and touring a bit, after leaving aTelecine on July, 2013.
Say what you will about this former porn star, you can't deny she's an interesting individual to say the least. There's been some talk going on that she may be looking to get back into the porn industry, though I don't know how true that is. Personally, I think it's just another ruse to put her back on the map after being out of the spotlight for over a year. If I'm wrong, I wish her good luck with it, I'm sure plenty of fans would love nothing more than for her to do hardcore again; either way, I bet we have not seen the last of Sasha Grey just yet.
Sources:
- Source of pictures (bangbrosnetwork.com, evilangel.com)
- pulseradio.net "Ex-Porn Star Sasha Grey Is Now An EDM DJ"
- www.ew.com "Porn star Sasha Grey reveals all... About her new music career"
- wikipedia.org "Sasha Grey"
- www.tmz.com "Sasha Grey Restraining Order -- My Ex Got Me Into Porn & Wants To Hurt Me!"
- slutever.com "GOING DEEP WITH SASHA GREY"
- Youtube.com -TheLipTV "Beyond Porn; Geeking Out with Sasha Grey"
-VICE "50 Shades of Sasha Grey: How She Got into Porn & More"