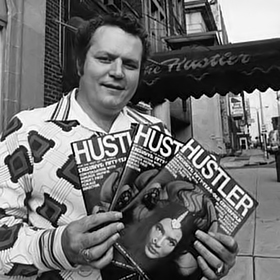 First of all, for all of you who don't know who this man is, I'm referring to the porn mogul extraordinaire, crusader for free speech, and founder of Hustler magazine, Larry Flynt. Some see this man as a monster, others as a pioneer for the current pornography industry; but no matter what you believe, there's no question that this man is an intelligent businessman that has made an impact on the world.
Let's kick things off with a little bit of background on this man. Larry Flynt was born on November 1st, 1942 into a poverty-stricken family in Lakeville, Kentucky. He was in the Army for a year at 15 years old (by falsifying a birth certificate), then served in the Navy for five years. But it was after his service that things became interesting for Mr. Flynt, when he returned to Dayton, Ohio, bought a local bar and turned it into a successful strip club that he called Hustler Club.
After that, he branched out, founding new clubs throughout the U.S. and publicizing the businesses via a short newsletter that quickly became very popular. This is where Hustler magazine was born. Flynt was of the opinion that Penthouse and Playboy alienated the average man, and so, he set off to publish a magazine that catered to the desires and needs of working-class men. Using his newsletters as a template, Hustler's contents where incredibly explicit, more so than any other men's magazines of the time.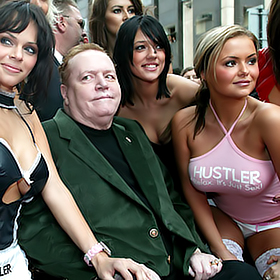 The unorthodox vision and the level of women's exposure within Hustler magazine quickly became as popular as it was controversial. Keep in mind that we're talking about American society in the 70s; with its narrow-minded views on sexuality, it's no wonder that some of the people were outraged at coming across a publication that prided itself in showing raw, hardcore depictions of sex. One issue featured nude pictures of former First Lady Jacqueline Kennedy Onassis (this was the publication that put the magazine through the roof in terms of sales and notoriety), while another depicted a woman being fed into a meat grinder. As mentioned before, it was of little surprise that the magazine offended the delicate sensibilities of anti-porn advocates and feminists all over the country.
From the first day Hustler hit the newsstands, Flynt challenged America's interpretation of the First Amendment which, for those of you outside the U.S, states: Congress shall make no law respecting an establishment of religion, or prohibiting the free exercise thereof; or abridging the freedom of speech, or of the press; or the right of the people peaceably to assemble, and to petition the Government for a redress of grievances. Flynt so challenged America's views on free speech that he was taken to court several times on charges raging from obscenity, organized crime, intentional infliction of emotional distress, and so on.
One of the most famous cases was when he was sued for emotional distress by Reverend Jerry Falwell in November 1983 for publishing a satirical cartoon, which implied that Falwell had an incestuous affair with his mother. Six months later, a jury found Flynt innocent. He appealed the ruling in 1988 and it was unanimously overturned by the U.S. Supreme Court. The verdict was considered to be Flynt's greatest victory in freedom of speech because it constitutionally protected offensive speech aimed at public figures as long as it didn't claim to be true.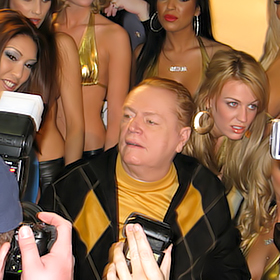 Larry Flynt a monster or a hero
So, how have Larry Flynt and his magazine influenced today's porn business? First of all; he, alongside the other three of the Four Horsemen of Pornography (Hugh Hefner of Playboy, Bob Guccione of Penthouse, Al Goldstein of Screw) have set the blueprint for how we make and enjoy porn today. He was bold enough to portray the most shocking of sexual fantasies on print, and made a point of displaying female genitals in all their glory, strongly emphasizing that a vagina is as unique as the woman it's part of. He also stated multiple times that porn is not, as many still believe, a bad thing in itself; it's a means to an end, it's entertainment, it's an outlet for sexual desire in men and women alike. And yes, maybe he offended some people on the way to becoming one of the most powerful men in the porn business, but as he stated in an interview: "Hustler is offensive, even to the point of being iconoclastic. That's our purpose – to be offensive. We're always pushing the envelope, it's understandable that people are getting upset – but that's what built our reputation and it's what our core readership like."
In conclusion, is Larry Flynt a monster or a hero? I'll let you be the judge of that.
Sources:
− Larry Flynt (Wikipedia.org)
− Larry Flynt: Freedom fighter, pornographer, monster? (independent.co.uk)
− Larry Flynt (biography.com)