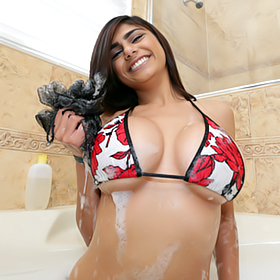 Mia Khalifa (not her real name) was born in Beirut, Lebanon on February 10th of 1993 and moved with her family to the United States in 2000. They lived in Maryland and a few years later, the stunning brunette graduated with a Bachelor of Arts degree in history from the University of Texas at Del Paso before eventually moving to Miami, where she still resides.
Mia started working in the porn business after she was approached by a customer at her job in a local fast food restaurant and asked if she ever wanted to do pornography. It turns out the answer was a resounding yes, luckily for all of her fans out there. She shot her very first hardcore porn video for BangBros on October 2014 and by the end of December, she was announced as PornHub's number one ranked performer, taking the title from pornstar veteran and MILF, Lisa Ann. It's fair to say that this is one of the fastest rises to fame an adult actress has ever seen; going from being no one to the top of the ranks in just 5 months is practically unheard of in the business.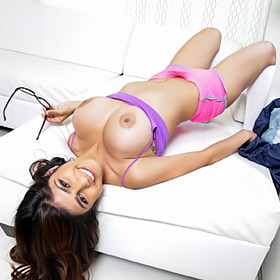 Khalifa is exotic-looking babe
It's easy to see why people have become so fascinated with Miss Khalifa; this exotic-looking babe is the entire package, with a rockin' body, a bubbly personality and a love of all things sexual. In that first casting video, you can easily see the (then) 21 year old hottie is excited to be stripping and fucking on the camera. She even casually mentions that she's a swinger and a closet whore, and that she's always wanted to try doing porn.
Her big DD tits are one of her main attributes, aside from the Middle-Eastern heritage that sets her apart from the rest of her peers, and her trademark black rimmed glasses. She stands at just 5ft 2in and weighs about 120 lbs, making her pretty petite, but with obviously killer curves. Her popularity has reached such a point that one Lebanese bewery ran an ad showing their beer bottle next to a pair of Khalifa's signature glasses, under the tagline "Both of us are for adults only". Also, American music duo 'Timeflies' released in January 2015 a song titled "Mia Khalifa" as a tribute to the raven-haired starlet to which she responded by uploading a video to YouTube twerking to the song.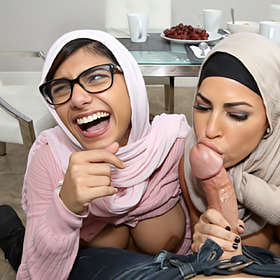 Unfortunately, fame comes with a price, and for Mia it came in the form of heavy criticism from her home country in social media, including death threats. These were sparked mainly from a recent scene she shot for BangBros, where she whore a hijab and participated in a threesome alongside MILF babe Juliana Vega. Her tattoos (the first line of the Lebanese National Anthem on her left arm and one of the Lebanese Forces Cross on her right wrist) have also generated controversy in Lebanon; with critics saying she's shaming her country with her choice of career.
Her own parents are against the way she's making a living. Being very conservative, they've denounced their daughter to the Lebanese media and are currently not in speaking terms with Mia. The new starlet claims she feels guilty for putting her family through the media circus her career has become, but that though porn is not something she wants to do forever, she'll ride out this storm and continue to perform until she doesn't enjoy it anymore. For the sake of her ever-growing fan base, let's just hope that she doesn't quit the industry for at least another couple of years; in the meantime, you can always enjoy the stuff she's done so far.
Sources:
− Source of pictures (bangbrosnetwork.com)
− Wikipedia.org
− mirror.co.uk "Who is Mia Khalifa? Everything you need to know about Lebanese beauty who's PornHub's number one porn star"
− independent.co.uk "Pornhub star Mia Khalifa receives death threats after being ranked the site's top adult actress"
− newsweek.com "Meet Mia Khalifa, the Lebanese Porn Star Who Sparked a National Controversy"
− shockmansion.com "Video: Mia Khalifa, She's The No. 1 Ranked Porn Star On PornHub, Had Death Threats For Wearing Hijabs While Having Sex, And Now She Has Her Own Song, Lets Watch Her Twerk To It!"