At the end of last month, a primary school teacher in the Czech Republic was invited to resign from her position in the institution due to the discovery of a porn clip featuring her on the web. The video was of the casting category, and in it she point-blank states that she's a teacher.
The infamous clip of a pornographic nature was soon discovered and passed around among her students, and ultimately brought to the attention of the school administration and some understandably concerned parents. "I'm very sorry, but we had to say goodbye to her. We decided together that her teaching agreement with the school will end April 30," school director Petr Jonáš said, according to daily Mladá fronta Dnes.
An outraged parent was also quoted in the daily stating, "I don't want to judge this person. Who knows what drove her to do it … [but] having sex for money with a stranger in front of a camera does not coincide with the educational mission." The video, which is subtitled in English and available on plenty of free tube sites (it's called Lucie 5334 by Czech Casting, if you want to check it out click here to find this video), starts out like many other casting films with an interview of the model, then the shedding of clothes and finishes things up with some hardcore fucking in front of the camera.
In the interview portion she calls herself Lucie, admits to being married –though separated- with two kids, and states that she's a teacher and a fitness instructor. She also says her reasons for doing the casting were to try something new, and that she wanted to know how things worked in the adult industry. Another thing she clearly stated was that she didn't want to do hardcore porn because of her job and her family, but I guess she got caught up in the moment and wound up banging a guy POV style.
Now, this situation is not by any means a new occurrence, teachers have been caught doing porn in plenty of other instances all over the world. For example, in December, 2014 a German actress that went by the name Julia Pink was fired after it was discovered that, apart from being a teacher to children and adults with learning disabilities, she was also moonlighting as a hardcore porn actress.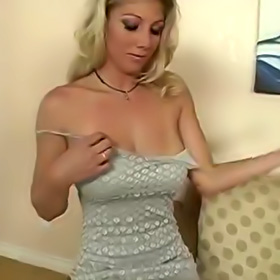 A year before that, a middle school biology teacher in California was sacked after some of her students discovered she used to be a porn star performing under the name Tiffany Six. Attempts to get back into teaching failed, after a three-judge panel unanimously decided her porn past meant she was unfit for the classroom. And back in 2009, in the UK, a primary school teacher by the name of Andrew Beasley was found guilty of unacceptable professional misconduct for starring in porn films outside school hours.
Now, you may or may not agree with me here, but I think it's absolute rubbish to punish an educator for doing porn in their own time and away from school premises. What they're doing is not in any way illegal and it doesn't keep them from doing their jobs. Yes, there could be complications with teaching some teenagers that know what you look like naked and fucking, because, let's face it; they're not going to be taking your lectures seriously after that. But with small children like those in primary school, who have no business even looking at porn in the first place, there's no need to keep them away from teachers who have been (or are currently) in the adult industry.
I just think we should stop with the slut-shaming already; being a porn star does not make you less human, it does not make you incapable of working in another area. I mean, most of us watch porn, and we all enjoy sex. Let's try and not be complete hypocrites, shall we?
Sources:
- Sources of pictures (//www.czechcasting.com/)
- //liberec.idnes.cz/ucitelka-tocila-porno-zakladni-skola-ji-propustila-fxr-/liberec-zpravy.aspx?c=A150429_154213_liberec-zpravy_ddt
- //praguepost.com/czech-news/47448-teacher-resigns-after-being-spotted-in-porn-film
- //www.mirror.co.uk/news/world-news/porn-star-teacher-sacked-school-4875761
- //www.dailymail.co.uk/news/article-2263238/Porn-star-Tiffany-Six-turned-biology-teacher-loses-appeal-return-classroom.html
- //www.thetimes.co.uk/tto/education/article1878536.ece