Most Japanese people keep a fairly conservative attitude towards sex-related topics since it's considered a social taboo to discuss sex in public. In spite of this, the prevalence of the porn industry in Japan is surprising to say the least. One of the reasons why may be that the mindset for most Japanese is that while desiring sex is acceptable, speaking out about those desires is not. It's fair to say that these cultural beliefs lead to an interesting and delicate balance between the people's need to uphold old moral traditions (with the censorship of genitals, image 1.1) and the release of the lid that the Japanese keep on their sexual instincts.
The legal restrictions around the pornographic Japanese industry haven't, by any means, slowed down the growth of the business. In fact, it's managed to grow to the point of giving its U.S.A peers a run for their money where profits are concerned. That's mostly due to the inventiveness that local porn producers have had circumvent the law and cater to certain fetishes; as well as showcase the fact that their actors were indeed performing sexual acts. They were creating porn genres unique to Japan that would later on become known to the Western world. In this article we're exploring all the things that make the Japanese porn industry so unique.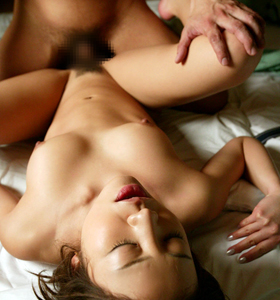 Censorship Law: Why does one of the largest markets for pornography censor their films? Well, it's time for a little history lesson. Way back when the western and eastern worlds didn't know about one another, Japan was a pretty liberal place regarding sex…they had porn painted blocks of wood with tons of sexy stuff on them( called shunga). But the moral codes of western civilizations began to leak over on Japan and, back in 1907 one of the six Codes that are the foundation of Japanese Law, the Criminal Code of Japan, was passed. In it, Article 175 states that people who sell or distribute obscene materials can be punished by fines or imprisonment. This hasn't been changed since and, as you can see, is quite open to interpretation. As there's no explicit wording, the latest interpretation of the law was the blurring of genitals on porn which, until recently, included pubic hair.
So, to answer the question, why do they do it? I believe that the biggest part of it is tradition; on the one hand, it's against the law and AV filmmakers probably don't want to risk going to jail or paying a huge fine, so they continue to blur out genitals, drawing upon decades of tradition.
One good thing to come out of this is that the law forced filmmakers to get creative; giving birth to plenty of genres uniquely Japanese.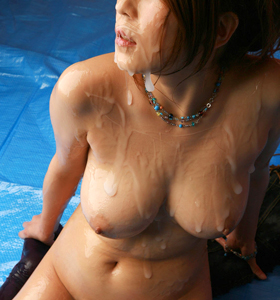 Bukkake: Meaning "to splash, to dash, or heavy splash" is a sex act prevalent in many contemporary Japanese porno videos where a bunch of men ejaculate onto a single person (be it man or woman, image 1.2 ), most commonly on his/her face.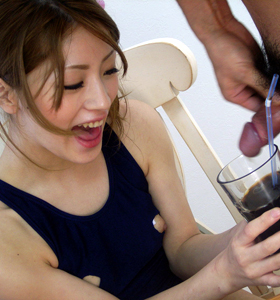 1.3 Japanese women drink semen
The bukkake first appeared around the 1980s, as a kind of loophole in the censorship laws mentioned above, because semen did not need to be blurred out. The practice of bukkake spread from Japan to America and then Europe during the late 1990s, as part of the trend for "harder videos" of the time, and following the appearance of the gang bang clips that became popular then.
A Japanese variant for bukkake is gokkum, where a number of men all cum in the same container and give it to the recipient (man or woman) to drink their combined semen ( 1.3 image ).
Omorashi: It's a fetish subculture recognized almost exclusively in Japan. This involves people experiencing arousal from having a full bladder or a sexual attraction to someone else experiencing it. The term means "to wet oneself", or literally "leaking".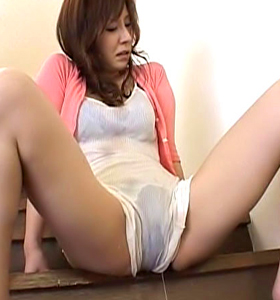 1.4 woman peeing themselves fully clothed
Omorashi videos do not feature direct sexual contact or nudity; instead they're mainly about clothed incontinence. Meaning that they feature only a man or woman peeing themselves fully clothed ( 1.4 image ). The fact that there's no sex at all is what separates omorashi from the western pissing fetish.
Tentacle Porn: Tentacle porn has existed for a very long time in Japan, long before animated pornography came along. As you can probably imagine, it involves tentacled monsters raping women in a strange mix of sci-fi, bestiality and porn.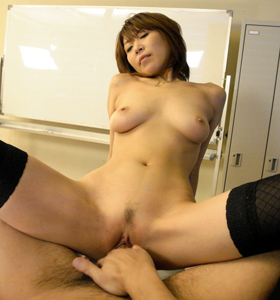 1.5 Point of View from Japan
These strange appendages were quite obviously not penises, even though they were acting kind of like dicks and were suspiciously dick-like in appearance; they did not need to be censored. The sexually explicit paintings of these creatures soon gave way to animation, manga and live action portrayals of this sexual act.
Among those mentioned above, Japan was also the pioneer of Point of View (POV) videos (1.5 image ), where the camera man performs sexual acts and records the experience giving the viewer the effect that they're in the action and not just watching the show. There's also the great artistry that's Japanese bondage (1.6 image ), called Kinbaku ("tight binding") which is a style of BDSM bondage where the bottom is tied up using intricate patterns using several pieces of thin rope and where the aesthetics and the positions the person is tied in are very important.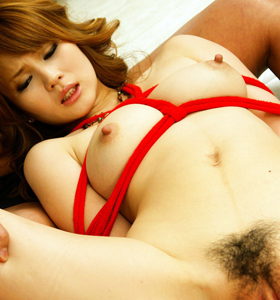 The Japanese have also created the Nuru gel, made from an extract of Nori deep water seaweed and used in a Japanese style massage (1.7 image ) named after the gel they use to perform it. These massages generally entail getting covered in the slippery, colorless and odorless substance, while a naked woman rubs herself all over the recipient's body; usually ending in some kind of sexual act.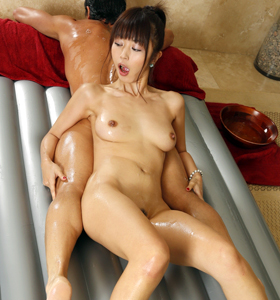 All of the stuff mentioned above is a clear sign that Japan can get pretty creative when it comes to sexual practices, don't you agree? And those things are not even the tip of the iceberg where Japanese porn is concerned. Generally speaking, they may be a more conservative culture, featuring women in submissive roles more often than not; but they really let their freak flag fly when it comes to porn, and I say that as a good thing; who wants plain vanilla when there's so much more in the adult entertainment world that's available for sampling?
Sources:
• Sources of pictures (//www.alljapanesepass.com/) and (//www.fantasymassage.com/)
• Pornography in Japan, Bukkake, Nuru Massage, Omorashi, Tentacle Porn (Wikipedia.org)
• Porn Industry, Porn Trade, Adult Entertainment Industry (economywatch.com)
• This is why Japan's porn industry is profitable, and America's isn't (dailydot.com)
• The (Almost) Complete Japanzine Dictionary of Japan Sex (japanzine.jp)