Born in Richmond, Virginia on November 5th of 1988, Bailey Jay started crossdressing at the tender age of 15 years old. She was (and still is) a fan of anime, cosplaying and an active member in 4chan.net, a website where English-speaking fans of Japanese animes and mangas could talk about their shared passions.
It was at the Otakon of 2007 (an anime convention held in Baltimore), that the lovely Bailey first began to shine. While waiting in line for the 4chan panel in the convention, this naughty babe wantonly bared her small tits to a roomful of people much to the delight of everyone present and when a member of the Otakon staff came to reprimand the young lady she responded with the infamous "It's okay, I'm a boy" line that sparked a debate within the 4chan community.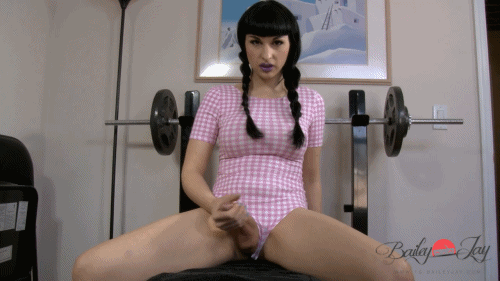 Bailey, being a fun-loving kind of gal, took this opportunity to tease her peers on 4chan and fuel the fires of the debate by uploading revealing photographs of herself on the website, neither comfiming nor denying the fact that she is a trans woman. The memebers of 4chan ate it all up, dubbing her with the nickname "Line Trap"and claiming that she'd been "stealing men's heterosexuality since 2007". They made memes about her, wrote songs to her in tribute and, when she was no longer uploading pictures to the forum, Bailey became even more of a hot topic.
At that time, Bailey Jay (known back then only as "Line Trap") began experimenting with a hormone treatment to continue her transition. With her slender figure (she stands at 5'7"and weighs 137 lbs), it was tough finding the right balance of medication that worked for her, once she finally did, nothing could hold her back.
In 2008 and working under the stage name Harley Quinn, Bailey started modeling for Grooby Productions (a popular tranny company in adult entertainment) in sites such as Shemale Yum, finally putting an end to the mystery of her gender. The photoshoots and videos she made for the site became really popular due to her incredibly feminine appearance and she was rated the top tranny of the site in the blink of an eye. It seemed that no one could get enough of this brunette shemale vixen and, with the help of a plastic surgeon, she was more than happy to keep providing fapping material for her fans.
At the beginning of 2010 Bailey went under the knife and got a boob job, augmenting her small chest to a nice C cup pair of knockers that furthered her appeal in the porn industry. It was just after the surgery that Bailey began working towards having her very own official website and succesfully launched it on June of that year, showing an even raunchier and sexier side of herself than ever before. In her site Bailey can be seen fucking men, women and other naughty trannies in hardcore action as well as shamelessly teasing the camera with some solo masturbation clips and pictures.
With her ever increasing popularity in the adult entertainment industry, it came as no surprise that Bailey Jay won AVN's Transsexual Performer of the Year award for two consecutive years (2011 and 2012). However, this gorgeous shemale is by no means a one-trick pony. Since 2010 she has hosted the podcast The Bailey Jay Show alongside her husband, photographer Mathew Terhue and has been a guest in several others. On 2012 Bailey released her first music single on iTunes and Spotify called "You're Getting Lucky Tonight", and currently the talented shemale serves as the co-host of The Jim Norton Show on Vice.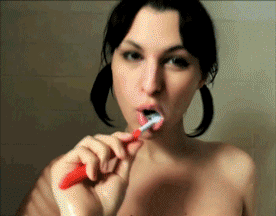 It's apparent that this charming trans babe has big ambitions. She's not only a much loved and talented porn performer, she's also a successful radio personality and, believe it or not, a would-be author; recently there's been talk of her writing a book in the near future. It sure seems that Bailey Jay has plenty to offer and I'm positive we'll be seeing more of this shemale stunner for years to come.