Like I mentioned in a previous article regarding this subject, a BDSM relationship is an extremely complex matter that doesn't adhere to a prescribed recipe. Elements in each relationship will change according to the needs and desires of the individuals within every pairing. Some people like pain, others prefer bondage, some like to do BDSM occasionally to spice up their love lives, others prefer to stick to the lifestyle 24/7. It's always good to remember that there are as many nuances to a kink relationship as there are people.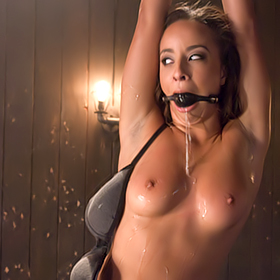 With that out of the way, let's get to the point of this article, where we discuss the things that were actually right in the Fifty Shades movie, or more specifically, the book. Honestly, I'm tired of hearing all of the things that are wrong with the books and the movie, all that negativity can't be good; so let's focus on the positive side of things for a change.
Firstly, there's the contract. While the way E.L. James went about it (with the previous NDA signing) wasn't all that great, the fact that there was a contract stipulating the particulars of the relationship Christian wanted with Anastasia isn't as far-fetched in the BDSM world as you may think it is. There are such a things as a "Slave Contract" and a "D/s Contract", and their main objective is to define the goals and set standards expected of a slave (or submissive) and establish the responsabilites of the Master (or Dominant). This kind of document is a commitement between the two parties, and not at all enforceable by law; meaning that it has no validity in court. A simple search on Google will take you to various templates and examples for a D/s contract, and they all suggest that the couple tailors it to their particular needs, negotiating the exact terms used in it and each of their roles before signing. The rules of behavior a dom expects from a sub should not be included in the Contract; they should instead be in a separate living document to make it easier to modify them as the relationship progresses and changes.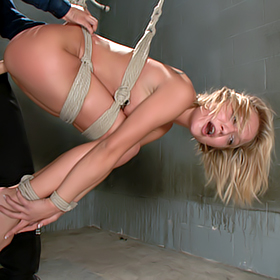 shows him/her that the Master is displeased
The subject of consent is really important for BDSMers, and that was illustrated clearly and repeatedly in both the books and the movie. There are several ocassions in which Christian tells Anastasia she can say "no" and/or leave at any time should she feel like it; and this is really ground-breaking in terms of Hollywood. So kudos to "Fifty Shades" for showing consent with the regard it deserves.
The concept of Punishment is introduced in "Fifty Shades" within the Contract, and it has popped up in my research many times, often as a synonymous for Discipline. However, they are two words for a reason, and I discovered that these two terms are not interchangeable and mean very different things. Discipline for instance, can take many forms, it's used as a way to teach proper behavior and obedience, so it's usually called upon for the training of a new submissive. Punishment on the other hand, is utilized mainly in the case of an infraction on the part of the submissive and shows him/her that the Master is displeased, that there are consequences to their actions and as a way to reinforce the change to proper behavior. One thing that's worth pointing out, is that Punishments don't always have to be about corporal punishment; in the case of a masoquistic sub, pain is something they actively seek for pleasure so a Master would not use it as a way to correct him/her.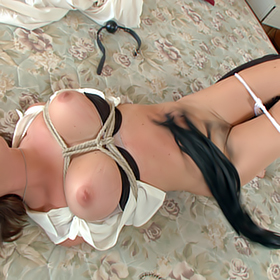 the technique of the whipping
Since we're on the subject of Punishment, we should adress spanking. This is a very common activity among BDSM practitioners, and though it may be used as a penalty for wrongdoing, it most often is a pleasurable activity for both the sub and his/her dom. In "Fifty Shades" there are several instances of spanking that occurs for both pleasure and punishment, however it does not go into detail regarding the technique of the spanking. The first thing you need to know about this activity is that there are no-go areas when it comes to spanking; these include the lower back, the tailbone, hipbones and back of the knees. This is mainly due to the fact that these are zones where a spanking could cause lasting damage. A pre-spanking warm up also plays an important role in playing since it increases the blood flow to the area, creating a cushing for the blow. This can be achieved by some light spanking over the sub's underwear and some massaging as well.
While playing in a BDSM scene, both top and bottom can reach an altered state of mind where everything desappears except the dom, the sub and the scene; these are called "topspace" and "subspace" respectively. Subspace has been equaled to being drunk or high, with an euphoric or floaty feeling; when in this natural high, a sub can ask to keep playing to the point of harming themselves without knowing it. That's where the dom has to keep a watchful eye. Topspace is very different from subspace; some doms have described it as being very very focused in what they're doing with their subs, like being in the zone. This is good, because they're the ones that have to decide when their subs have had enough.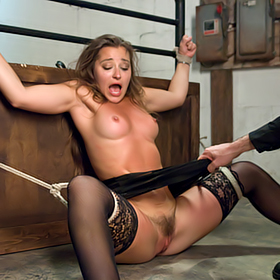 Coming down from subspace can happen quickly or it can take hours or even days. It is the responsibility of the Master to help his/her sub come down to earth in the softest way possible, and that's where the concept of aftercare comes in. This is a time where both the top and bottom spend some time together connecting after a scene is over; they might cuddle and hug, reassure each other on how they enjoyed the scene, and the top usually looks after the sub's physical needs. This is a period where remaining connected is essential, until the euphoria of playing has passed and you're both able to function somewhat normally again.
The concepts of subspace and aftercare where only briefly shown in the "Fifty Shades" movie (if you knew what you were seeing), and somewhat touched on the books, though not mentioned by name. However, I thought it wise to point out these incredibly important concepts of the BDSM world since they're all about the mental state of the participants. People rarely pay attention to what's going on through the minds of BDSM practitioners, choosing to focus instead in the flogging, bondage and pain-loving aspect of it. Yes, all of that is a part of it, but I believe that the true draw for BDSMers is that endorphine-filled rush they can reach while playing a scene, and the emotional connection they feel with their partner afterwards. If it's anything like I've seen it described, I can totally understand the fascination.
Sources:
− Source of pictures (//www.sexandsubmission.com)
− theartofsubmission.com "Spanking 101"
− bestslavetraining.com "Slave Contract & Training Agreement", "Slave Punishment & Discipline Training"
− submissiveguide.com "Using Contracts to Negotiate a Relationship"
− 50shadestobdsm.com "Subspace, Endorphins and Topspace"