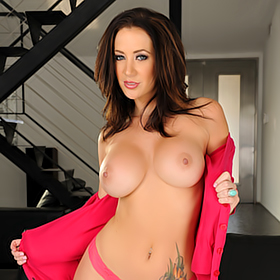 Jayden Jaymes Having recently won an AVN Award for Best Boobs (fan vote), this luscious brunette continues to fascinate fans all over the world with her sinful curves. Born Michele Lee Mayo on February 13, 1986 in Upland, California, this tall and buxom brunette started off her career in adult entertainment as an exotic dancer while attending college full-time where she studied accounting and business. She began performing in explicit movies at the age of 20 in 2006 and has been at it ever since, delighting us with her shapely body and love of all things sensual. Jayden is notorious for running her own website and operating a blog in which she candidly expresses her opinions about working in the porn industry, as well as her personal life. This has led to lots of negative feedback from her peers, but she's kept at it regardless of what everyone thinks and that's really remarkable in my opinion.
Ms Jaymes is not just another pretty face though, with a sharp mind and shrewd business sense, she has had plenty of profitable side projects, including a line of collectible men's streetwear. She currently resides in NYC, expressing herself through her blog, traveling around the world, and working as a dancer, model and porn star.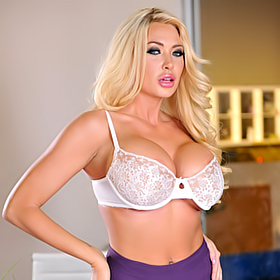 Summer Brielle This classically beautiful blue-eyed blonde has been working in the adult industry since 2010. She was born Laura Cox on February 7, 1987 in Tennessee and, like a very good southern gal, she's demure on the streets but a freak in the sheets. Seriously, this busty babe is down for everything and anything in front of the cameras; from bondage, to anal and everything in between, she's always pushing her sexual boundaries to the delight of her fans.
She started out, as many do, doing strictly girl-girl scenes. For nearly three years she did nothing but lesbian shoots, abstaining from cock on screen. It wasn't until late 2013 that she shot her first boy-girl scene for Brazzers, and it snowballed fast from there. As mentioned before, she will do everything in front of the camera. One of the most distinct aspects of this stunning blonde is, apart from her world-clad ass and perfect tits, is her ability to soak a room with her squirting orgasms. Fans of squirting rejoiced when they saw the lovely Summer Brielle in action and her obvious enjoyment of a good, hardcore fucking. She's vivacious, energetic, and really greedy when it comes to sensual pleasures, and that's an absolute joy to witness.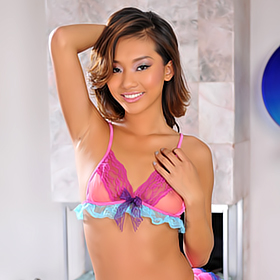 Alina Li This cute and petite Chinese babe took the world of porn by storm during her one year stint in the industry. She was born (February 22, 1994) and raised in Shanghai, then moved to USA with her mother and her American step-father when she was 14 years old. She began her short career in porn just two months after graduating high school at the tender age of 18 and has stated in interviews that she did it because just wanted to give it a try; following in her favorite actress Asa Akira's footsteps.
Unfortunately, this gorgeous Asian teen has retired from the business as of June 2014. The reasons she gave were that she was worn out, and no longer enjoyed doing porn as she did in the beginning. It happened after she shot a scene for Kink.com, where she was tied up and dominated in a store, fucking in public; she stated that though that scene was not the sole reason for her quitting, it did push her over the edge, so to speak, to the point where she said "enough". That particular scene and plenty of others were you get to see this sexy Asian fuck doll getting it on with men and women alike are still available on the Net though.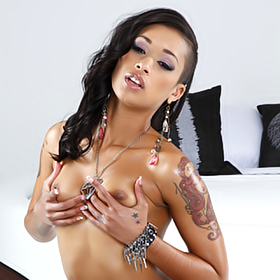 Skin Diamond Born in America on February 18, 1987 (Ventura, California) and raised in Scotland, Skin Diamond is anything but the average pornstar. This petite ebony babe got her start in the UK as an alternative, fetish and erotic model for four years before her exotic good-looks caught the eye of some mainstream fashion designers such as Louis Vuitton and American Apparel.
Diamond, wanting to further expand her sexual experiences, moved to USA again, got contracted by legendary adult agent Mark Spiegler and shot her first explicit hardcore movie on 2009 for Burning Angel. She is as gorgeous as she is multi-dimensional, with scenes raging from girl-girl, to boy-girl, and BDSM shots, so you can see this beauty in a little bit of everything. She's also very open, honest and down to earth, as well as intelligent. In an interview with TheLipTV, she talks about her start in the industry and what it's like being a porn star; she also candidly talks about her love of the BDSM world: the "kinky shit" as she calls it, and voices her opinions on condoms in porn. I strongly urge you to watch that video on YouTube; you'll find that Skin Diamond is as beautiful as she is fascinating, and you'll love her all the more for it, like I did.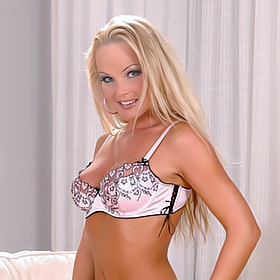 Silvia Saint This petite blonde was born on February 12, 1976 in what is now the Czech Republic. Since her start as a lingerie model, Silvia Saint has become one of the world's most known and successful pornstars.
Of humble origins, this Czech beauty studied management in a Brno institute for two years. She then became a Hotel manager as well as an accountant and marketing coordinator for different companies. Saint had bigger dreams though and began looking into a modeling career. Starting out as a lingerie model, she soon moved on to nude modeling before her then boyfriend talked her into auditioning for a role in an American porn production where she got casted. It was in 1996 when she got her big break though, being named Czech Republic's Penthouse Pet. Two years after that, she was also named Penthouse Pet for October in the USA edition of the magazine. Since then, Silvia has been notorious in the adult industry, and having worked for now 18 years in the business it's safe to say that this blue-eyed blonde has had one of the longest careers in porn.
Sources:
• Freeones.com
• Imdb.com
• Wikipedia.org
• Jaydenmichelejaymes.com
• Zzinsider.com
• Xcritic.com – "Summer Brielle Reigns as May's Must-See Girl", "Alina Li Interview"
• Youtube.com – TheLipTV "Skin Diamond on Sex, Porn + Embracing Your Urges"
• Lavozlibre.com – "Silvia Saint, la estrella erótica que cambió su destino"